Advent Madness
Day One
CASTLE
(Open the Doors
Here
)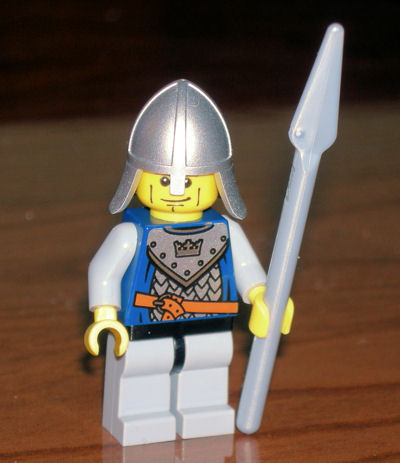 Day 1 - Solider with Spear
For those of you in North America wondering "Where the heck did you get the Castle Advent Calendar? All I could find was the CITY one!",  there were a few ways to get your hands on the "Cool Kids" version of the Advent. You could bug an overseas friend, spend a bundle on eBay, or have been reading the
Reasonably Clever Blog
a few months ago when I shared the news of a way to get the sets direct from LEGO using a secret code.  Personally, I used two of those methods - I begged for overseas help prior to learning about the shop@home option. 
Anyway, welcome to the CASTLE version of the Advent Countdown. 
Behind Day One's Door we find a mini-figure. This isn't too shocking -
every
LEGO Advent Calendar in the past that featured Minis has started with one behind the first door. 
This figure doesn't offer many surprises - it's a standard Knight variation - a silver helmet, standard face, standard knightly torso and black/
bley
legs. The silver spear accessory is also pretty common. A good play value and a clear welcome to the Castle Theme, but that's about it. 
Let's hope tomorrow's door will spruce things up a bit.