Advent Madness
Day Eighteen
CITY
(Open the Doors
Here
)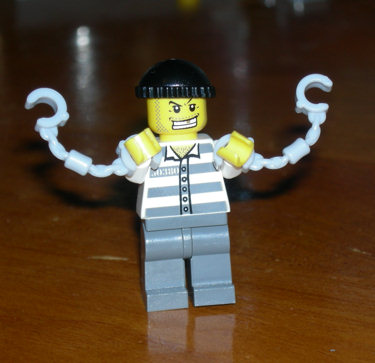 A Crook!
Now THIS was a shock. I opened today's door and thought I had made a big mistake. No, I had opened door number 18. And the Picture matched the mini-set behind the door. And it did fit the "Mug Shot" Police sub-theme.
But...a
second
mini-figure as part of a theme? This is a big break with tradition for CITY!
(Admittedly, the 2008 Castle Advent had a similar surprise with two skeletons in its Bonehouse sub-theme - but we'd pretty much established that the CITY and the Castle are two very different beasts.)
Now, as awesome as it is to have another minifigure to add to the Advent Army, I'd be untrue to my inner Grumpus not point out that we've seen this particular dude before - in 2005 he arrived on Day 6 carrying a saw. Perhaps we was up for parole this year.
Why does he come with two sets of handcuffs? Who knows? Who cares? It's a cool accessory that I don't mind having a duplicate of.
Looking ahead we have some new questions to ponder. Was this truly day three of the Cop sub-theme? Is this rather a strange bridge into an all-new Criminal 3-day-crime spree? Or another 2-day "micro theme"?
The waiting...it burnses and hurtses us.