Advent Madness
Day Twenty
CASTLE
(Open the Doors
Here
)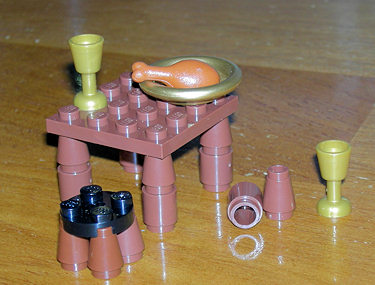 Table, Stool, turkey dinner and glasses. And some wood.
Continuing the Maid/Serving Wench theme we get a much more satisfying mini-model than yesterday's vegetable crisper.

Today we have a fairly elaborate mini-table, a stool, golden plate and goblet (with spare goblet for a friend) and a couple of extra pieces. You know, in case a table leg breaks or something.

Is this a possible cross-time/space link with the CITY advent? Perhaps the Man-Eating-Turkey from Day 1 over there just left the Castle environment....nah. That'd never work. The turkey leg is still here. Maybe he came by and dropped it off, as it got cold and stale?

Maybe so.




...Maybe so.