Advent Madness
Day Twenty Two
CITY
(Open the Doors
Here
)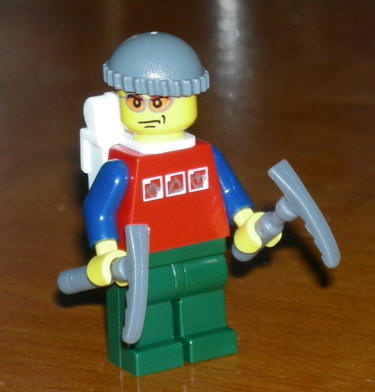 Mountain Climber
As we enter the final days of the CITY Advent we see the welcome return of Winter-Themed figures. I'll admit it's a very Northern Hemisphere-Centric view, but, darn it, I expect to see some Snow and Ice as part of my Christmas Festivities.

Today's Mini-figure does seem decked out for cold weather - a nice knit hat, winter-y white backpack and warm sweater. And Ice Picks. Two of them.

None of the parts are particularly rare - even the white backpack has appeared in Star Wars and Mars Mission sets - but the combo is nicely assembled.

This should be a short-lived theme - one mini-model on the 23rd with a new "final theme" on the 24th. Are the ice picks a hint? Maybe we'll see an ice wall or something for him to climb. It'd be an interesting tie-in to the Sports theme. Well, whatever it is, I just hope it's something cool and different.

C'mon LEGO...we're all counting on you...