Advent Madness
Day Fifteen
CASTLE
(Open the Doors
Here
)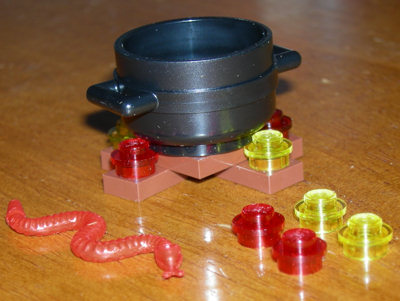 Witch's Cauldron, fire, snake, and extra dots
Well, back from the edge of the unique and rare to the commonplace. Still -as far as accessory sub-sets go, giving our witch a bubbling cauldron makes good sense, so I can't complain too loudly.

The design on the fire beneath the cauldron isn't too bad - it's a trifle fragile which is odd for a LEGO-designed creation. But it does look nice without relying on the standard "flame" piece.

The snake is nothing special, but does tie in well with the theme.

So now it's back to waiting - we're sure to get another Witch-themed item tomorrow. Will it be worthy of the mini-figure? Will it be so bad that the average for this theme will crash and burn like the Hindenburg?

I guess we'll know soon enough...