Advent Madness
Day Six
CITY
(Open the Doors
Here
)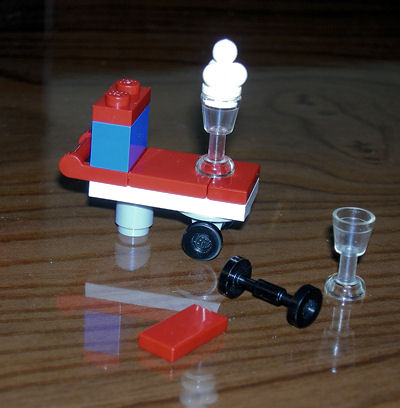 Ice Cream Cart? Maybe? With extra wheels, glass, and red tile.
If yesterday's sub-theme door left you with an Ice-Cream headache, get ready for a double dose behind today's door.
I'm
guessing
this is an Ice Cream cart. It has wheels. The picture shows the glass of ice cream sitting on it. There's a handle of sorts for a figure to push it around.
The mysterious red and blue brick combo offer no hints. The smooth "this ice cream is going to slide right off" surface of the cart remains enigmatic. The extra pieces sit an mock us quietly.
I don't like today's door. Can you tell?
Still, tomorrow should be a new theme - maybe this one will have mini-models that actually look like something.
-----
Edited to Add:
As several readers have pointed out to me, I missed an obvious connection - the items from Day 5 and Day 6 combine to form a somewhat more realistic ice-cream cart.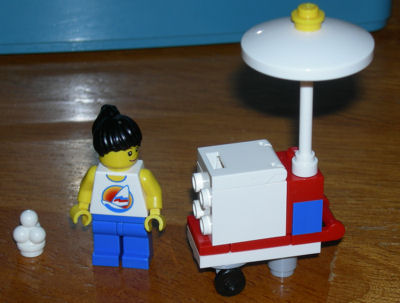 Well, What do you know!
That LEGO decided to stretch this out over two days seems...sad. There aren't *that* many parts involved in the final model...and the Calendar itself wasn't exactly cheap.

And, just because I'm feeling snarky, there's a problem with the playability of the model, too: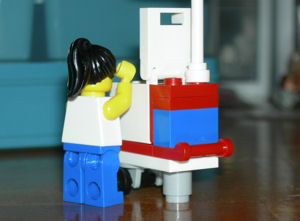 Oooh! I see ice cream!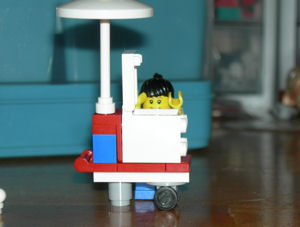 Too bad there's no way at all I could reach it!
Anyway, thanks for those of you who wrote and commented about the combination step. I'll be on the lookout for this sort of thing for the rest of the calendar.