Advent Madness
Day Thirteen
CITY
(Open the Doors
Here
)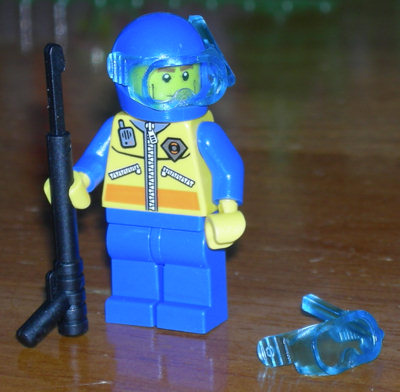 Aquaman with diving helmet, spear gun, and spare goggles.
(Today's photo is a bit off in the color department - the mini-figure's legs, arms and helmet are the standard LEGO blue, not some odd neon shade.)

Day Thirteen opens a new sub-theme for the CITY calendar - the Coast Guard. I have to admit, I like this little guy. In 2008 LEGO made the decision to change the torso colors on their Cost Guardians from orange-with-yellow-highlights to a yellow base. The color contrast with the blue legs and helmet is pretty striking, and helps breathe some new life into a sub-theme that's reaching the end of it's useful life.

Sadly, the figure's face is the standard "man with well defined cheekbones" making him a clone of roughly 1/4th of the LEGO figures currently in production. It's an easy flaw to overlook, however, since it's well hidden behind a helmet with the "diving goggles" accessory.

The figure's weapon - a spear gun - is cast in black - a good choice as the often-used yellow would have looked silly next to the revised torso colors.

We can expect two more days of Coast Guard themed subsets if the CITY Advent holds true to the established schedule. As the Coast Guard are rather regiment-oriented fellows, I doubt we'll see much deviation...