Advent Madness
Day Ten
CITY
(Open the Doors
Here
)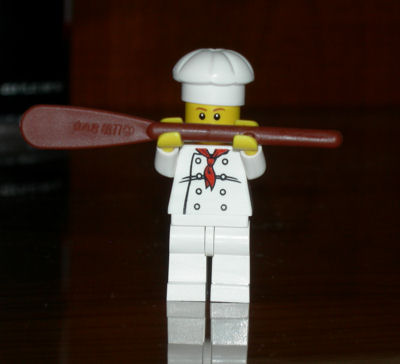 Chef with Oar
With our "Fireman and Cat" triumvirate safely completed, Day Ten features the beginning of yet another new sub-theme for the CITY advent calendar. Sadly, it's a theme we've seen again and again in the Advent universe- that of the chef.

I spent many long minutes staring at today's figure, hoping to see something new in the plain white legs, standard chef's hat and torso, and bland smile. I looked to the strangely nautical oar for possible inspiration.

And then I realized: This Chef is actually a NINJA.

Yes, LEGO tried to slip one by us by using a clever disguise, but this man is clearly a master of dozens of Eastern fighting forms, a silent killer who slips away like a surprisingly nimble flan.

I'm sure of it.