Advent Madness
Day Eight
CITY
(Open the Doors
Here
)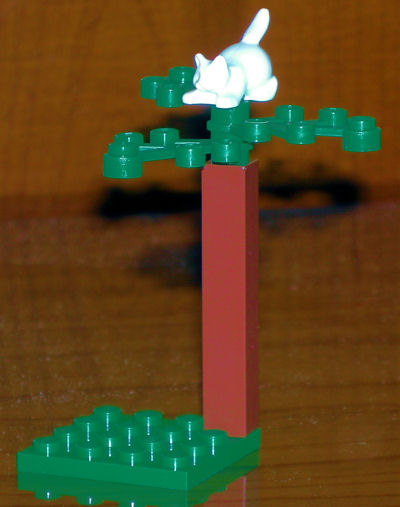 Kitten up a Tree
Well, this is a bit of departure from the CITY sets we've seen in the past. Sure, we're still doing a "Fireman" sub-theme, but this time it's a
Pleasantville
version where the fire department just waits for a call about a cat up a tree.
As far as trees go, this is a bit iffy - three fronds stuck to a rectangular pole. It's a bit more creative than the one-piece trees LEGO also produces, but to me it looks a bit too cubist. Maybe it's supposed to be a subtle slam against people who buy plastic Christmas trees over the real pine-scented deal. I doubt it, though.
The cat is also a disappointment - last year's Belville Advent also had a cat behind door eight - but that cat had printed features. Once again, LEGO's cost cutting shows through.
Still, I have to give them points for an original twist on a very tired sub-theme. When I saw the fireman yesterday, this set was pretty far down my list of expected follow-ups.