Advent Madness
Day Twenty Four
CASTLE
(Open the Doors
Here
)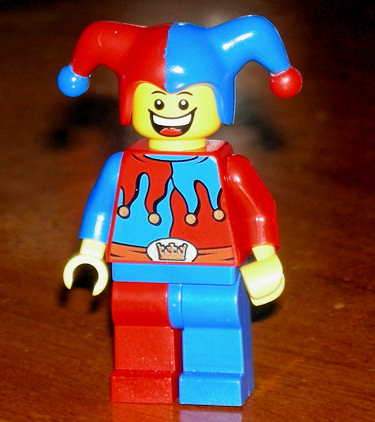 Jester
Here we are - the grand finale of the Castle Advent Calendar. The final door hides a new mini-figure - an awesome addition to any Castle Collection -
The Jester.
I can't claim to be surprised to get this guy - he's figured prominently on the front of the Castle Advent box after all.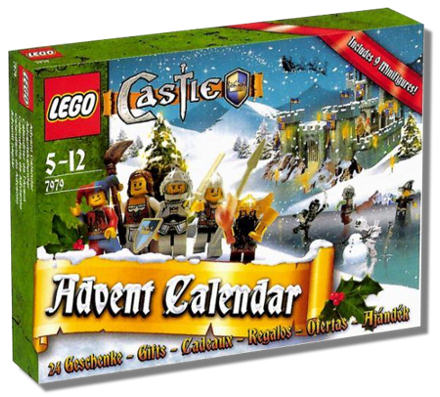 When news of this set was first leaked back in January it was a tossup which figure would generate more excitement - the Wench or the Jester. (No one really noticed the new Witch over in the corner - mostly due to the leaked image being too low-res to make out any details.)
Later in 2008 we would see the Jester hat turn up as part of the Batman line - recolored to Black and Red for Harley Quinn. But the blue-and-red version would remain a Castle Advent exclusive - along with an
all new
"Big Grin" face that wasn't shown on the box front!
Since today completes the Castle Advent, I wanted to close with a few observations about the calendar as a whole. While I regularly whine about the repetition of the CITY calendar, I'm sure I'd be equally grumpy if I were to see a Castle-only offering year after year. There's only so much you can do with one theme in the scope of an Advent run - you might get away with two years, but after that you're going to be sucking fumes, and the calendar will suffer for it.
But, fresh out of the gate, this calendar had just about everything you could want. New figures with unique and hard to find parts. A few interesting Mini-Models. Solid sub-themes. Sure, it had a few days where you couldn't help but feel cheated - but those days just helped the truly awesome kits stand out that much more.
From the news that's already leaked for the 2009 Advent Season it doesn't look like we'll have to worry about what a second year of Castle would look like. From what we've seen it isn't being developed.
But...there is word of an alternate to the ever-present CITY option. Just a rumor at this stage...but still....
Advent
Pirates.
See you next year, Matey!