Advent Madness
Day Seven
CITY
(Open the Doors
Here
)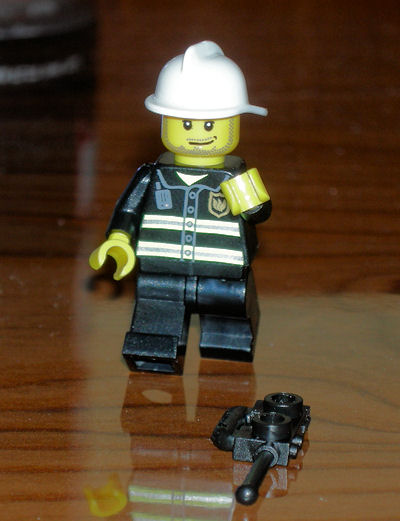 Fireman with Hand-Radio
Shocker. A three-day sub-theme completes, and now we find ourselves facing a new mini-figure introducing (we can only assume) yet another sub-theme. Or, as is the case here, a re-hash of a sub-theme.

Sure, fire fighters are cool - but every year we have a visit from virtually the same guy. Heck, it hasn't even been that long - he was behind door #1 in 2007. And in 2006 our Fireman was behind door 22 - with, may I add, much cooler accessories. The only thing that really changes from year to year is the figure's face. And it's always a common one, like today's stubbly-smirk.

But you never know. The mini-sets so far have been a pleasant departure from past adventures. Maybe Sparky here will be taking part in something unexpected as well.