At my office we're doing "Secret Santas". It's a gift exchange were you buy small items for a randomly-selected co-worker for a week.
In our office we try and make things easier for our Secret Santa by writing out a short list of gift ideas. Of course, at the top of my list was "LEGO."
My Santa missed Tuesday, and promised to make it up to me with a very nice gift on Wednesday.
Yesterday, I got this: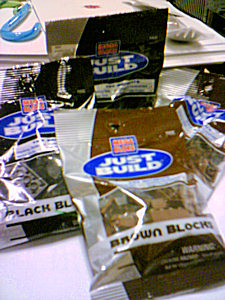 In case you can't make it out, those are four small bags of
MEGA BLOKS.
The evil opposite of LEGO bricks.
And I'll have to be nice, because odds are the person who bought me these just didn't know better. I mean, it's not
reasonable
to expect them to know how MEGA BLOKS make my skin crawl.
But, man, it still stings.