VS

Just a week to go - or a week and day, depending on how you're counting.
So far the week days in Belville have been balanced by a surprisingly strong showing from the CITY. It can't last much longer - I have this dread feeling that both calendars will be letting us down in a big way before we reach the end. It's inevitable.

DOOR NUMBER SEVENTEEN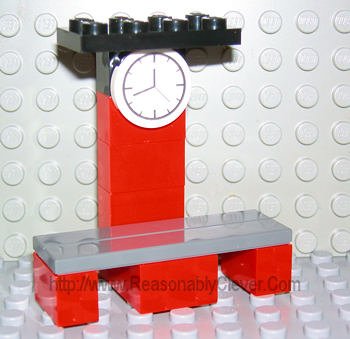 It's a bench.
With a clock.
So you can sit and wait for your train, and occasionally get up and walk a bit to check the time, because you certainly can't
see
the clock while you're seated.
It's not a bad model. The clock piece is pre-printed and not a sticker.
But...
yawn
...not much to keep one going.

DOOR NUMBER SEVENTEEN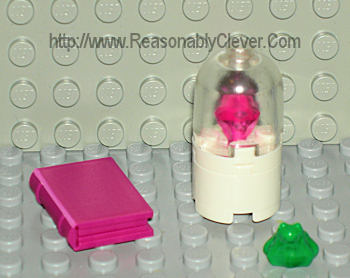 I'm calling this another "Storybook assortment." For, indeed, it even
comes
with a storybook. I can't think of any Fairytales that involve a frog
and
a gem, though.
Well, it's a pretty large book. Maybe these are props from two different stories.
JUDGMENT:
Today's race was fairly close - there were a lot o parts in the CITY door, a couple of them are even useful. But Belville came with a frog, and, as readers of my web-comic will attest, I do
so
love them LEGO frogs.
TODAY'S WINNER: