VS

Twelve Maids a-milking,
Rabbit, carrot, and oil drum.
Joy lives only in song.


- "Advent 12", a classic LEGO Haiku

DOOR NUMBER TWELVE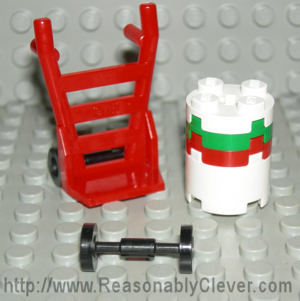 PROOF!
PROOF
that LEGO is annoyed that the CITY Advent Calendar continues to sell; that they'd rather see it die. That bean-counters have beaten LEGO's model team into submission and all that's left is a semi-trained monkey to assemble each year's CITY Advent.
Yes, this door is another repeat - this time of
Day 17, 2005.
But go look! 2007 is actually a
stripped down version!
In 2005 we got
two more pieces!
GAH!
Why does it have to hurt so much?

DOOR NUMBER TWELVE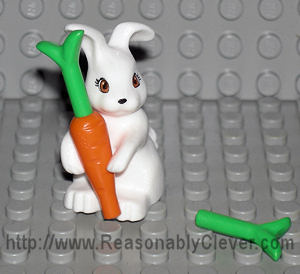 I didn't mention this in the strip (yet), but the rabbit it scaled to interact with the larger Belville characters, just like the first LOLCat. That makes it rather large in the Mini-Figure world. To attempt a rough scale translation - it's be like meeting a 5' bunny on the street.
Kind of intimidating. Yet this rabbit
has
appeared in one CITY set - the Holiday Train. (Although it could be argued it was meant as a stuffed toy.)
The bunny comes with a carrot accessory, as well as an extra tuft of greens as an extra piece. Or maybe they're suggesting the rabbit got hungry waiting for day 12 and had already eaten half of its supplies. I dunno.
JUDGMENT:

If you think today is going to a stripped-down rehash door, you haven't been reading the other advent blog entries.
TODAY'S WINNER: