VS

Each day, in addition to the
comic,
I'll take a look at each calendar's offering in more detail here in a separate post. In these posts I'll be taking a look at the two Calendars and evaluating them on
General Coolness, Holiday Theme,
and
Nifty LEGO Pieces.
Each day, one Calendar will
WIN
and one will
LOSE.
And at the end of the month, we'll total up the daily results and declare a
WINNER.
Hope this doesn't suck.
Okay, with that out of the way, let's take a look at the prizes behind

DOOR NUMBER ONE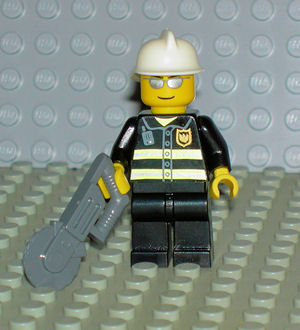 I had a feeling.
Right out of the gate, like the past few years, we get a Mini-Figure to begin our adventure. If I were to look for a bright side, at least it's a heroic Firefighter and not a bum or something else City-Themed.
The sad part? There's
nothing
at all
new
about this figure. If the only LEGO products you ever received in your life were the Advent Calendars, you'd
already have
all of these parts from two years ago. As a matter of fact, the ONLY difference between December 1, 2007 and December 1, 2005 is that this year we get a saw accessory instead of an axe.
Shame on you, LEGO.
Very, very LAME.

DOOR NUMBER ONE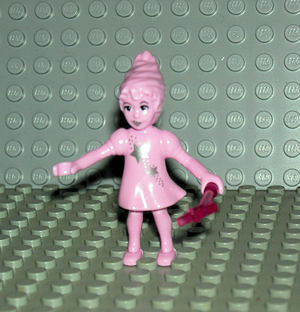 So what do the Belvilleians get on December 1st?
A Christmas Fairy!


Now,
this
is more like it. Sure, there are only two pieces, the sadly non-articulated Fairy and her pink wand - but at least there something
festive
about this present. You get a feeling that after a few drinks she might be the life of the party. (No, wait, that's the
Green Fairy
.)
True, she's not in scale with the standard LEGO mini-figure. The Belville theme has much larger figures, however, making her size "cute" rather than "hulking."
Today's CITY door may have the advantage in part count and playability, but I'm still giving today's WIN to Belville. The
cheap repeat nature
of the CITY door is just too loathesome to do otherwise.
TODAY'S WINNER: