VS

Door number 5 - just under 1/4th of the way into these calendars. What are we seeing?
In CITY, we're still on familiar re-treaded ground. There's nothing particularly "Holiday" about the items, but they are very much CITY themed. The mini models haven't been particularly inspired, but that could change at any time - the past two years each had a couple of days that were quite spectacular. We can only hope this year's calendar holds the same sort of happy surprises.
Over in Belville we're seeing a more global "Holiday Princess" theme. I was going to say "Ice Princess", but there's been too much pink for that. (Get your minds out of the gutter: I just meant that an Ice Princess theme would be in whites and blues) We seem to be filling a princess' room with all the necessities - sort of like watching a doll house come together.
I'm undecided if the "one theme, one calendar" in Belville works better than CITY's "new sub-theme every three days". At least we're seeing a bit of creative difference in LEGO's choices; had Belville been a clone of CITY I would have been really disappointed.

DOOR NUMBER FIVE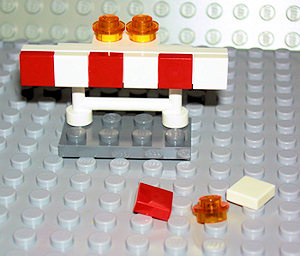 A barricade. We've seen barricades-a-plenty over the past two years, but, to LEGO's credit, none of them were
quite
like this one.
Back in the day, LEGO used to produce a lot of bricks with graphics printed directly on them. In recent years they've moved to a more cost-effective "Have the kid slap a sticker on it" method. I can't say I'm fond of the stickers - I can never get them to go on straight. Why do I bring that up? Because this barricade neatly skirts the sticker/printed issue by making the "caution" strip out of tiles. This, to me, is a great solution. Yes, I know I'm a geek. It's no secret.
Bonus points to CITY for including extra little tiles for post-advent building. And one more bonus point for the use of trans-orange for the 1x1 rounds - I just love trans-orange.

DOOR NUMBER FIVE

Not having three-day themes to work with makes figuring out how these items work together a bit trickier. And when the items themselves are wacky? Well, that doubles the challenge.
Today's door held a strange assortment of items - A huge cat, a small wall, a bucket, and a transparent purple fish. I guess it's a sort of "insta-pet" for our Princess. (Is it a bedroom for a Princess? Or are we making a room for the Pink Fairy from day one? It occurs to me that we just don't know. Curse my non-intuitive grasp of the Belville universe!)
Anyway. A Cat. A Wall. A Fish.
Today's door was designed by Dr. Seuss.
JUDGMENT:

How could a transparent purple fish lose? Today goes to Belville for the surreal approach.
TODAY'S WINNER: