VS

No. No. NO. No. NO.

NO. NOOO. NO. No. NO. No. NO.

No. No. NO. NO.

NO.
- "Advent 13", a classic LEGO Haiku

DOOR NUMBER THIRTEEN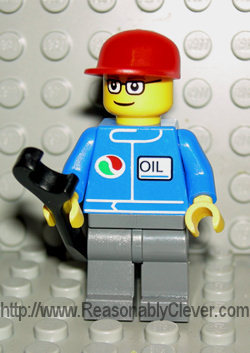 I...I just can't. I can't keep doing this.
Look, by now you know the routine. Just imagine the snarky comments around the following facts:


New face, different color legs.

But all the rest the same.
All the same.




always the same.







DOOR NUMBER THIRTEEN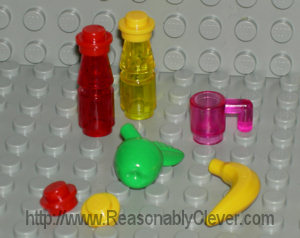 This is truly an "accessory" door. A couple of bottles (Red and White wine?), a mug, an apple, and a banana. And a couple of extra dots that could be wine stoppers, could be meatballs.
The fruit are rare LEGO bits, the banana in particular.
But otherwise, not a lot to report today. At least they let us build the bottles out of a few smaller bits, rather than just giving us Belville-standard bottles.
JUDGMENT:

CITY...I wanted to give you the day. I really did. But I can't. You
know
I can't.
TODAY'S WINNER: