VS

Day ten. If this were a boxing match, both fighters would be very, very tired. And would probably like a sandwich or something. I know I would.

DOOR NUMBER TEN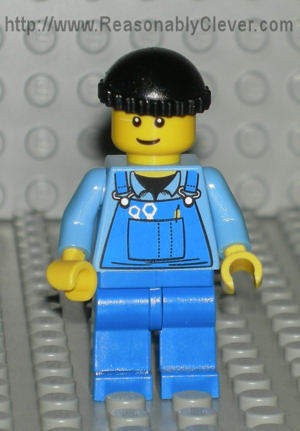 *sigh.* Say "Hello again" to Day 19, 2006. That's when we last saw this outfit. But the head? Say "I can't believe LEGO would be that cheap" and turn back to Day Four of this Year's Calendar.
Yes, despite hundreds of already-designed Mini-fig faces at their beck and call, LEGO decided to repeat heads among the eight or so mini-figures we can expect within the CITY Advent Calendar. Was it a cost savings? Was it laziness? Or just a lack of respect for the customer?
I should have seen this coming when LEGO "updated" their City Workers figure pack to have nothing but the bland "LEGO Smile" head.
I guess this proves there's no individuality in the CITY.

DOOR NUMBER TEN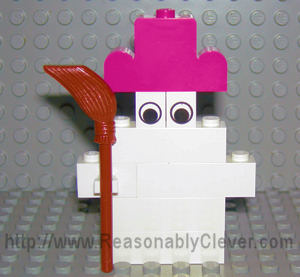 I'm getting tired of all these pets and bits of room dressing. Can't we return to some sort of Holiday theme? Even just a Winter theme? Please????
Wait...what?? Today's item is a SNOWMAN? Amazing!
Well - sort of amazing. It's not much of a mini-model. And it might be a
Schmoo
rather than a snowman.
But, my goodness, it does indeed seem to be a holiday item.
How unexpected.
JUDGMENT:

My ire at CITY runs at a new feverish level, but Belville gives me snow to cool it.
TODAY'S WINNER: