VS

Day 21. Just three more doors to go - how much Holiday Goodness is hiding behind those innocent looking portals? A lot? Some? A smidge? A dollop?
In years past, CITY has had a strong Holiday Finish - pulling otherwise somber calendars out of their nose-dives and into the light. Will we see that again? Or has LEGO given up on CITY to let Belville shine just that much brighter?

DOOR NUMBER TWENTY ONE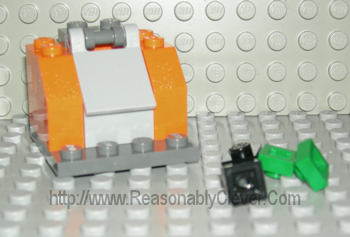 The final day of the Janitor sub-theme brings us what I consider to be a very nice mini-model. This trash bin has a hinged lid with enough space inside to hold the extra "junk bits" and quite a bit more. The design is sleek, easy to build, and can easily be incorporated into much larger models. I can see this same design as a storage area on a tank or starship - or a slightly modified version working as a stand-alone cargo container.
No, there's nothing Holiday Themed about it, unless you count it as a place to shove all that pointless wrapping paper at the end of a gift-opening frenzy.
Still, points for continuing a new theme with a new build, for having useful (if common) parts.

DOOR NUMBER TWENTY ONE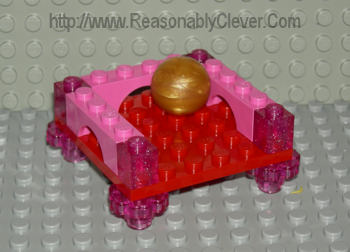 I'm guessing that this is meant to be another pet-bed. It has similar styling to the cat-bed we saw earlier, and adding a second mini-figure bed to the furniture tally doesn't make much sense.
Maybe this is for the puppy from yesterday's haul.
It also comes with a Bionicle "Zamor Sphere" in gold - which is being labeled as a "toy ball" in this context by most sites. Just to be difficult,
I
prefer to think of it as a
Horta
egg from Star Trek. Resting on a very fancy egg-warming tray.
In the post-season part view, today we have a few more "stained glass" elements that might be good, but those are balanced by the iffiness of four big fake flowers in trans-glitter-purple and some pink arches. And I've
yet
to find a good use for those spheres.

JUDGMENT:
A tough call today - Belville looks like more fun, but CITY has the better model. In the end, my builder's instincts won out, and CITY took the day.
TODAY'S WINNER: