VS

I was all excited about how the poll was working - many of you were voting, and I thought I had another way to add some fun interaction to the site. Then I got a report that the blog was now causing pop-up ads. Not a good thing. The only advertising I do are those Google Adwords over on the side, as they're fairly benign and usually bring in enough per-month to cover most of my hosting costs. Pop-ups, however, piss me off, and thus the poll had to go. (It was a "free" service - I guess you get what you pay for.)
Anyway, it looks like I was vindicated anyway - when I shut things down CITY still had a pretty impressive lead.

DOOR NUMBER TWENTY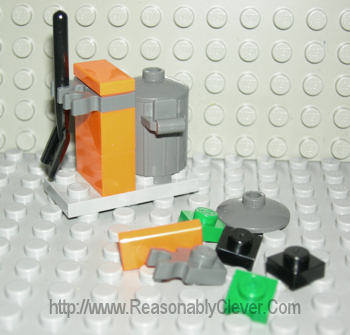 Janitor week continues with a trash can, tool rack, and some random bits of trash. I could add something pithy about how TRASH and this year's CITY tie closely together, but by now I'm sure you've already figured that one out.
Eh. At least it's a
new
sub-theme in CITY Advent history.

DOOR NUMBER TWENTY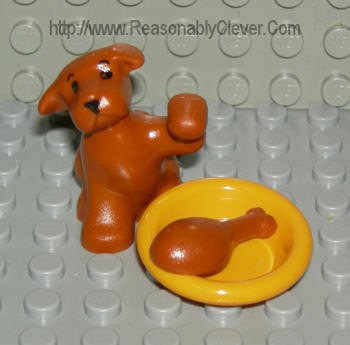 I'm not a dog person by nature, but even I have to admit this little pooch is pretty cute. He comes complete with an "I want Chicken Tonight!" meal.
The only real complaint I have is that the dog is Belville scaled so, once again, in Minifigure scale this puppy is a hulking giant. Considering he came from a
Belville calendar
, I can't really make that negative carry too much weight.
Yes, the puppy is a rare part. The last (and
only
) other time he's appeared in this color was in 2005's Belville "Princess and the Pea" set. The chicken leg, too, is hard to find. So is the plate, now that I think about it. So that's three-for-three.

JUDGMENT:
Sorry, CITY, Belville just has the better assortment today.
TODAY'S WINNER: