VS

With yesterday's loss to Belville, the CITY calendar gave up all hope to take the Season's Championship. At best, if today and tomorrow grant CITY wins...it can end in a tie.
It's somewhat shocking that this close to the final door there's even a question of who is going to win the title. I thought for sure, with all the repetition and lack of interesting models that CITY would be dead and buried by this point.

DOOR NUMBER TWENTY THREE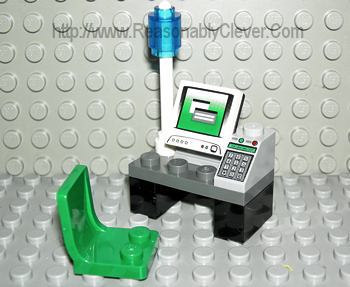 Continuing the 2 (or 3?) day Police Sub-Theme, we have this computer and workdesk.
Or....is it. Looking closer we see that it's got a flashing blue light and a credit card scanner. Maybe this is actually a K-Mart checkout lane!
No, there's a chair. And K-Mart employees would never have a chair to sit in while serving customers.
So I guess it is a police theme.
The green color is also a bit off - when was the last time you saw a police set with green highlights?
Eh.
The computer monitor and (printed!) keypad are both nice post-season parts. But there's not much of a model here, no extra pieces, and no holiday theming.
CITY - you have one more day. Can you find the holiday spirit?

DOOR NUMBER TWENTY THREE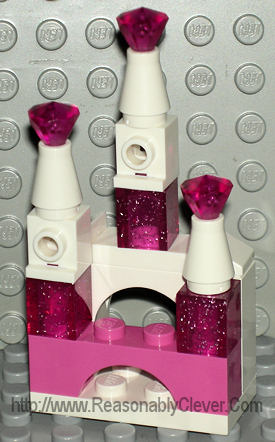 I was going to write how the Belville theme had gone meta on us - that elements best suited for life in a dollhouse now include a small dollhouse. That perhaps if the calendar had gone on for another week or two, we'd have Belville scaled doll house items - completing the circle down to another level.
Instead, I'd like to go back to some of my earliest hopes for the Advent Calendars. I've always suggested that the best thing LEGO could do would to be highlighting more than one theme in a calendar. That instead of CITY Sub-themes, maybe we'd have a week of CITY, then a week of EXO-Force, then a week of Belville, etc.
Look at today's little wee castle.
That's right. You've spotted it.
Castle.
Another currently-in-production LEGO theme.
My wish came true! Sure, it's a reach, but I'm going with it.
JUDGMENT:
Today's CITY is stronger than some of the week Belville doors, but it was easily overpowered by the magic of today's Belville cross-theming.
Don't go away, though. Even if CITY can't win (or tie), they may still have a shock ending for us tomorrow...
TODAY'S WINNER: