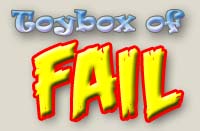 First time here? Please take a moment and read the
Toybox of FAIL Disclaimer
. Thanks!
-=-
Okay. Let's cover the background first. Go look at LEGO set
6791: Bandit's Wheelgun
.
It's a classic set from 1997. It's from the Western line - a strange attempt to make a Wild West Siege Weapon.
Now that you're familiar with that set, let's move on to today's FAIL. It's called....
Pirate.

(No, this isn't a repeat from yesterday.)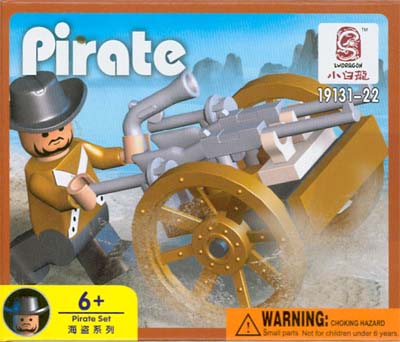 Yes, even though the mini-figure is clearly wearing western gear he's a Pirate. Says so right there on the box.
You doubt me? Take a look at the close up of the set description: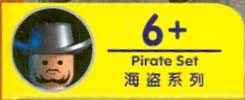 It's almost enough to make me miss Zephyr Knight and their goofy set names. LWD's decision to duplicate Playmobil Packaging means that the only way to tell these sets apart (other than the pictures, obviously) is the stock number. And let's face it -
19131-22
just isn't that descriptive.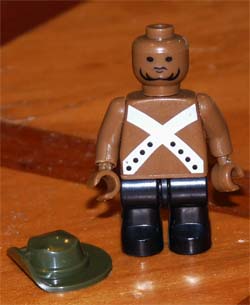 The mini-figure is the standard LWD design- again with a hat duplicated directly from LEGO molds. (Although cast in an attractive olive green shade. It'd be nice to have a legal LEGO fedora in that color.) Again, rather than yellow or pinkish, LWD has given us a figure with some diverse skin tones. As much as I want to hate them for ripping off LEGO, I have to respect them for that choice.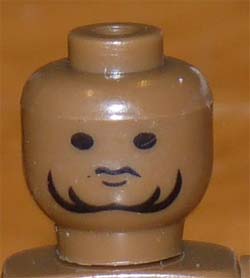 I don't, however, have to respect their choices on facial design. Is that a beard or a double chin? Whatever it is, it's rather goofy looking. Also I have to question their decision to cast the torso and arms in the same color plastic as the hands and head - it really makes our Pirate look like a shirtless
He-Man
reject.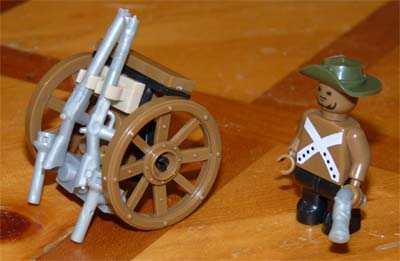 Here's

Western He-Pirate

with the completed toy. As you can see, it doesn't balance very well. Or maybe it's designed not to attack the oncoming Calvary charge, but rather for a very early version of X-Treme skeet shooting.

LWD continues to offer up their troubling mix of almost-quality design and crap plastic parts. Luckily there's enough SUCK in this set to keep most people away.


----======-----
As always, many thanks to Joe from The Undiscovered Playthings for sending me this set to review.