The
Bad Day
contest parade of winners continues today with the
DoublePlusGood
Module
category.
The top model in this category scored LEGO Set
7945 - Fire Station
, with the second place finisher taking home set
4916 - Mini Animals
.
As I mentioned yesterday, this was another tough category for the judges. All six of the submitted models were of superior quality and the voting was extremely close. Once again, though, there was a clear winner once the points were average out.
Who was it, you ask? Well read on....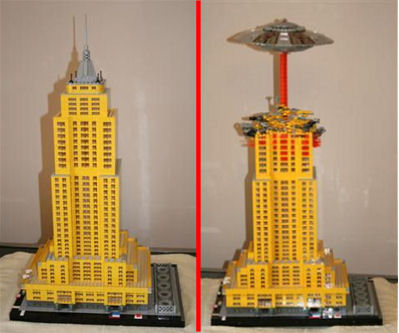 Empire State Building / Independence Day

Truly an impressive build, no? The before-and-after versions were a plus, but it was the overall construction that sold this model for me. Just because it's Micropolis doesn't mean it can't be a freakin' HUGE build.

Take a look at other entries to see more quality work - and see the results of the very close race for 2nd place.


Coming up is the big reveal of the most active category - the BAD DAY. Who won THE FARM? Who came close? Tune in tomorrow and see!