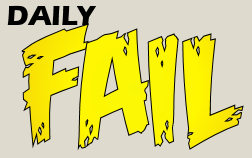 First time here? Please take a moment and read the
DAILY FAIL DISCLAIMER
. Thanks!
-=-
Missing letters. We've seen in before in sets from BRICK like "
City Ancgl
" - add a vowel or two and suddenly you have real words. But what about when dropping a letter (or two) gives you a name that still (sort of) works? Is it intentional? Is it a mistake? Does anyone really care?
Case in point:
Interstellar Battleplan
. Did they mean "plan" or "plan
E
"? Or maybe "Plain"? Or how about just "
SUCK
"?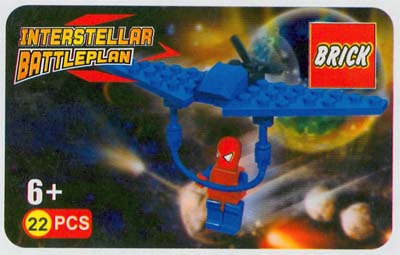 Yes, anther Spider-Fail. Yes, it's the same as the other BRICK Spider-Fails. Pack-of-cards sized box. The same bad translations around the sides. Nothing too special there.
The set itself is a copy of another bootleg set:
Xin Qi Le's
Intelligence Toy Glider
, which is itself a bootleg of
LEGO's
X-Treme Stunts 6561 Hang Glider.
(Or maybe Battleplan is a direct bootleg of LEGO's set. It's hard to be sure.)
Notice that background? We've seen it before in another
BRICK
set:
Star Wars.
Fans of Greg Bear's writing may have seen it before then: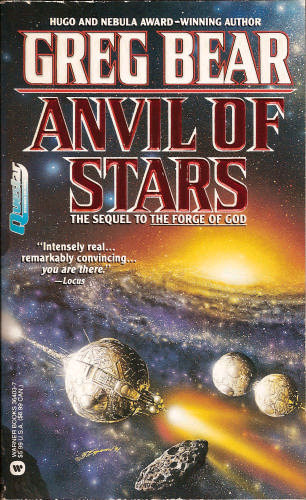 Don't see the connection? Look closely at the background behind Spidey-Bootleg in the close up below and compare it to the cover above.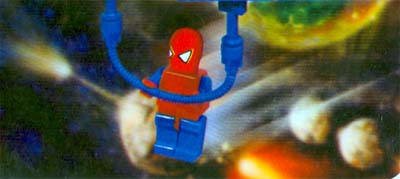 Yep. The background is a clone of
Anvil of Stars
. Perhaps
that
was BRICK's Interstellar Battleplan.
The instructions have the usual strangeness in step five - this time it's Spidey-Bootleg leaping
up
to grab hold of the harness. At least he's in scale this time.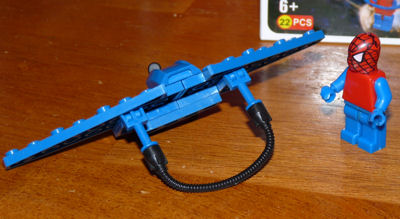 The actual toy is nearly identical to the package art - the only changes being the color of the harness-hose and Spidey-Boot's hands.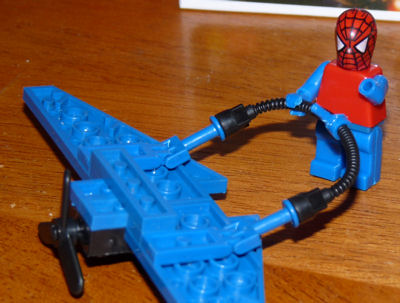 Try and play with this toy and you're in for the usual round of failure - once again Spidey-Boot has a hand that doesn't want to stay attached to his arm.
There's only one more Spider-BRICK left in my review pile - and I saved the best for last. Tune in tomorrow for the stunning conclusion to the Parade of Failure.