November is a tough month for Website themes. It's a bit too early to go with the "snowy" Christmastime graphics - at least until after Thanksgiving, anyway. I suppose I could try and build a cornucopia out of bricks...
...nah. Too many other projects already on my plate.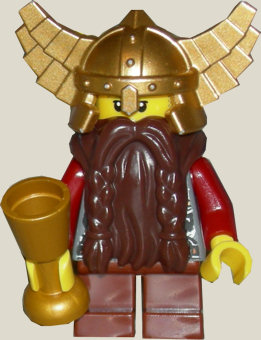 Regardless, I had to update the site's Halloween icons and colors to something less "October-y". The new ones may not be month-specific, but will serve quite well as my default set.
The mini-figure in the Blog graphic is in my own likeness, as seems appropriate.
The Misc icon is "Mr. Short", the short lived character from the very first days of Brick House.
Finally, the new "LEGO" avatar is a dwarf from a new Castle set. (Detail photo at left, obviously.)
I just love these new mini-figures - the latest expansions to the Castle theme have all been top-notch. The new skeleton torso/arm setup that allows for posing of the figure, the skeletal horses, the new wizard "lightning" effect pieces...all great improvements and additions. Kudos to LEGO for their work in this area.
Now if only we could see a return of Classic Space...