Details will be up tonight, but I wanted to announce this latest Challenge before time got away from me...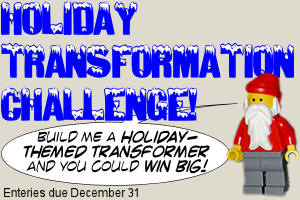 The basic premise is to build me a holiday themed item that transforms somehow. Maybe a Santa who becomes a sleigh, or a tree that turns into a robot. Be creative!
Entries due by December 31st - that gives everyone a chance to build with any new LEGO bricks they get for the holidays...
Anyway, watch the Blog for more details tonight!