There are new parts and new specials for the
Buy-Me-Mizer.
First up the new parts: Two "neckwear" chest plate armors, Five new heads, new Purple hands, three new Accessories (chrome sword, blade sword, airtanks), two new torso options, and two new helmets (including the swanky knight helm with visor)
This brings the total available combinations to 117,804,960,000. Do you have the full set yet?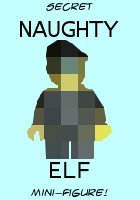 I also announced this year's Holiday Special. Depending on the number of figures you order you can get a bunch of cool freebies including a Santa Mini-Figure, Happy Elf Mini, and a secret "Naughty Elf" chase figure. Click the pic-link above for more details.