I've certainly been stunned with the volume of emails and posts about the rules for the Pigs on the Wing contest. I'm glad so many of you are concerned about getting your builds right, but, really, this isn't rocket science.
I've posted clarifications to the
rules page
, and will continue to do so as necessary.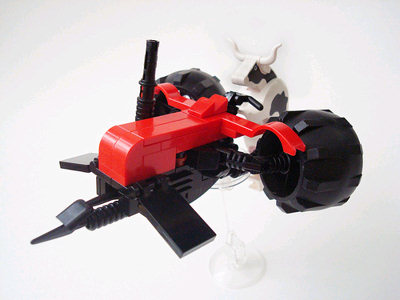 But the best way to show you what needs to be done, I think, is to show you the rules in action. Tim asked me to showcase
Polywen's Red TRCTR v2
(above) as a prime example of the rules followed correctly. Be sure to check out the full stream to see the
clever way the cow is mounted without using the feet.
Remember the five main rules:
1) The engine must contain 2 1x1 round plates in trans-orange (or trans-neon-orange)
2) Between the pilot and engine there must be 2 1x1 slopes creating the "ribbed for pleasure" effect.
3) The front of the craft must have "hover thingies" (a shovel and a spear-like-piece)
4) The pilot must be a LEGO animal (be sure to check the
rules page
for a discussion on just what that means for this contest.)
5) The pilot must hang from the rear of the craft. (Again, check the
full rules
for a discussion on limitations.)
That said, your model doesn't *have* to match up with the above. I'm accepting (and will shortly be posting) all the entires I receive. Just remember that the "follows the rules" part of the scorecard is 40% of the total...