This is "Workbench" post - just thought I'd share the results of a couple of hours of tinkering last night.
Ever have one of those moments where you look at someone else's work and see a new application, a new creation just waiting to be built? Well, that happened to me when I was browsing the work menatarms did on his
Elven Village
.
After waiting for a couple of part orders to come in, I was able to start roughing in one of the side engines for Serenity.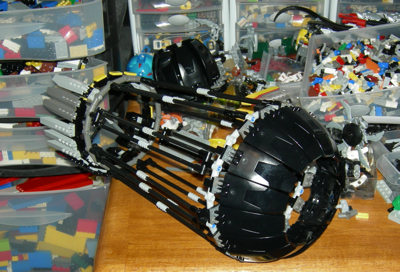 (Click for larger view)

My plan is to make as much of the interior structure Technic as possible - with a think "skin" of plates on top, just like a CAD rendering. That should keep things light, yet sturdy.
The scale here is a bit larger than mini-figure - I'm going to make a call on that very soon. Plus the framework needs reinforcement along the middle and one side (where it will hook up to the ship) . I think I'll probably modify things to have a more rigid cylinder from the front to the midpoint (where the grey technic connectors are) and then slope things down from there instead of keeping the larger "V" shape for the full engine. Most of it will be hidden by the engine cowling anyway, and I think the cylinder will offer more support.
Anyway, it's a fresh start.
And, I have to say, it looks pretty shiny.