As excited as I am by the upcoming Iron Man movie, I'm just as stoked about
Speed Racer.
(Mmm. At IMAX. May 9th. I'm so there.)
For those of you who feel similarly, or just love the thought of a race car's ballast consisting of a young boy and his monkey companion, LEGO has made the 2008 Speed Racer sets available on-line.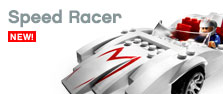 You've got to love some of the new parts in the sets like the curved windshield on the Mach 5 and the monkey-face torso on Spritle.