Hey guys. It was a busy holiday for me - I didn't get nearly as much work done for the site as I had hoped...on the other hand I'm not feeling nearly as burnt out on the whole concept as I was a week or two ago.
One of the new features I have planned for 2009 is thanks to an old friend of mine - a friend I made back in the days when I was running
The Island of Bootleg Toys.
Fellow Bootleg-Enthusiast
Joe
dropped me a line to let me know he was resurrecting
Bootleg Action figures: The Undiscovered Playthings
- updated into a new blog-format with all new reviews and content, as well as an archive of his past reviews. We got to talking, and of course I expressed interest in any LEGO-themed Bootlegs he could spot.
Well, Joe found some good ones. Not just "compatible" knock-offs, but blatant rip-offs that have stolen unique LEGO parts. Feeling my knowledge (read: obsession) with LEGO might make for a more in-depth review, Joe has agreed to send some of them my way.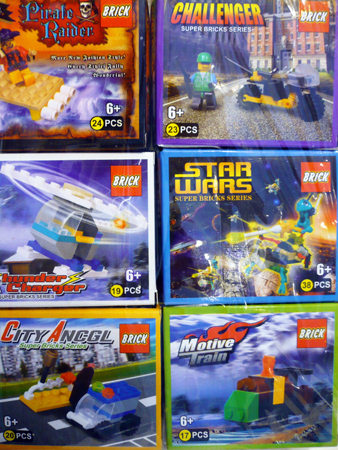 This teaser picture Joe sent me shows just a few of the sets I'll be looking at in the coming weeks - but even this low-res shot shows some really tacky things like the "Brick" logo in the LEGO style and the "Star Wars" set with the Life on Mars aliens.
As always, these reviews will be written with the intent of making sure you
don't
buy these sets - trust me, the last thing you want to own are a bunch of knock-off LEGO bricks. (Did MegaBloks teach you
nothing
?) I'll risk the brittle plastic, lead paint, and mental anguish for you. Although I might just share a
bit
of that mental suffering.
Anyway, look for this new feature to start up in late January! In the meantime, be sure to stop by
Joe's Blog
for the latest in Bootleg News!