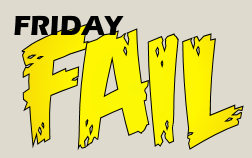 Every Friday at noon I showcase a real
failure
of a toy. And by "Failure" I mean "a cheap, crappy knockoff toy that should be destroyed before it infects humanity with some sort of degenerative disease".
But first: A reminder of some basic info. These posts are meant to showcase
FAILURE
, not to act as a catalog. I'm
not
selling these bootlegs, nor should you go out and look for them on your own. These are posts about what to
AVOID
buying. Go spend your money on real LEGO parts. You'll be glad you did.
--
Today we have another impulse-set sized bootleg, but this one has a whole host of copyright infringements to look at. Starting with the name. I mean...who hasn't heard of...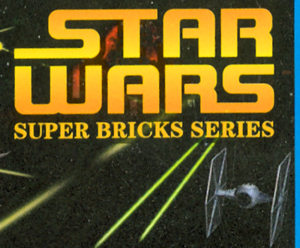 Okay, so maybe "Star Wars: Super Bricks Series" is a bit obscure, but the big title sure sounds like a brand name that carries more copyrights than any sane person would shake a stick at.

And if you doubt the link...well, look at the TIE fighter that appears just under the logo!

Ah, but the FRIDAY FAIL is all about LEGO Knock-offs, so let's flip the box over and take a look at the front of the box....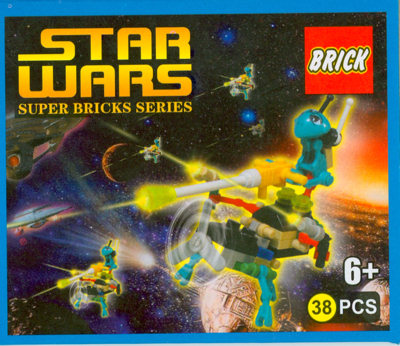 (Click for a larger view)



Ah, yes. Star Wars. Or, more LEGO-thematically, a revisit of the 2001 "Life on Mars" theme. The martian is a bit deformed (more on that in a bit), but there's no mistaking the aqua-blue limbs and ant-like head. But lets hold off on looking at the parts until we get done ripping the packaging apart.

For starters, this set is from the Bootleg-Vendor BRICK - as shown by their nearly-LEGO Logo. The "Super Brick Series" is in the same assortment that previous FAILS

Pirate Raider

and

Motive Train

have hailed from.

Looking closer at the artwork on the front of the package, you can see where BRICK decided that aping Star Wars and LEGO weren't enough to ensure a sale...they had to bring in Star

Trek

vehicles as well.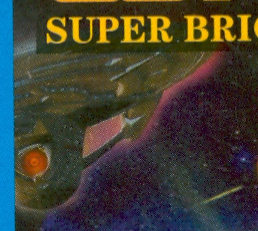 Just under the logo is the Enterprise-E....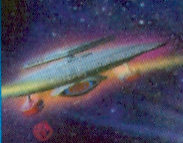 And also shown is a random Starfleet vessel from one of the movies.
Now that in itself is pretty sad - but here's something even sadder. Take a look at the inset in the close-up below.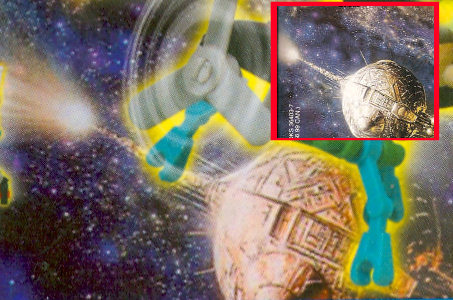 Now, I don't expect anyone else to recognize it, but that's a part of the cover art to one of my favorite Science Fiction books of all time: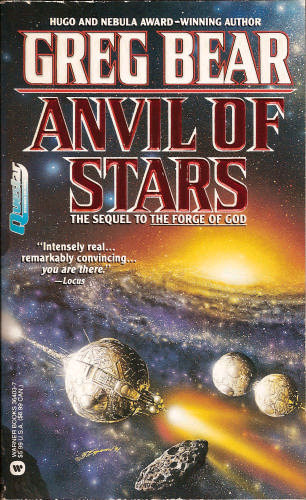 Yes, the graphic designers at BRICK stole the cover to Greg Bear's Anvil of Stars for use as their background. Did they like the book, too? Or was this just an early result on a google image search for "Star Background"?

We may never know.
For now, flip the box over to the back and you'll get even more space action...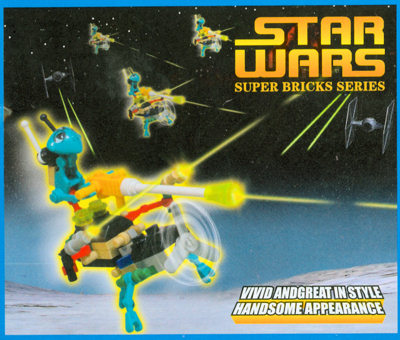 (Click for a larger view.)



Note the standard BRICK copy, along with the standard "andgreat" one-word-typo.

Vivid Andgreat In Style

Handsome Appearance



The logo was covered above, but there's another TIE on the left...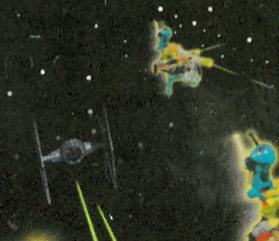 Amazing. Moving on, here are some shots of the other sides of the box. The art is just cropped versions of the front and back images.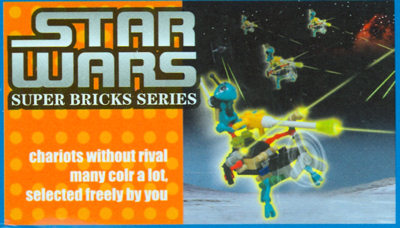 The Motive Train Non-Haiku returns:

chariots without rival
many colr a lot.
selected freely by you.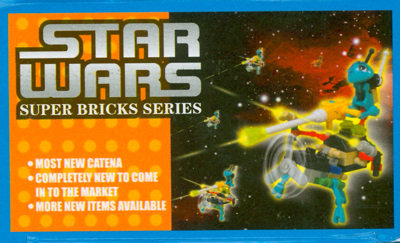 This side has some new text:
Most new catena
completely new to come in to the market
more new items available
Sad, really.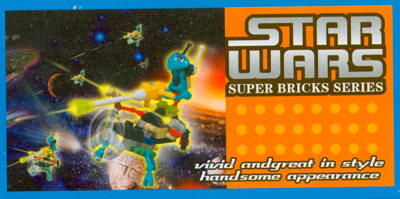 Again, nothing too new here, just failure after epic failure.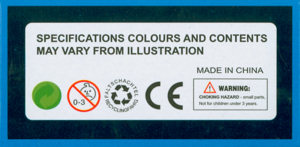 Here's the child-safety warning - although suggesting this is safe for any age is a lie.

Okay. Time to move beyond the packaging and into...Star Wars.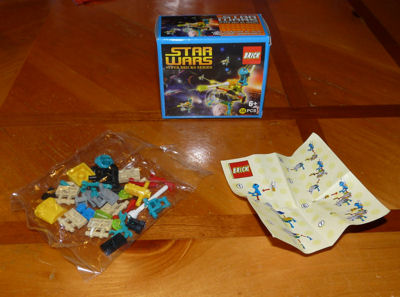 As usual from BRICK we get a poly-bag of parts, a cheaply printed instruction sheet, and a feeling of impending doom.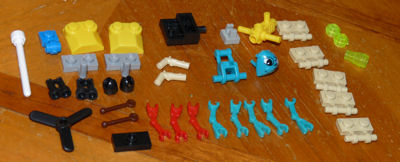 Here's the parts spread out for our inspection. As usual, BRICK has broken small assemblies down to their component parts. This time the gear-shift/antenna thingies are broken into a base and a handle. The box claims 38 pieces - I'm counting 37. Maybe the instruction sheet is meant to count as a part this time. As usual the colors vary from the box art.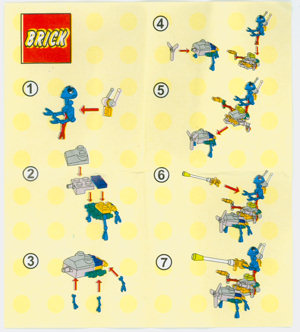 (Click for larger view)



The instruction sheet is cheaply printed - the color separations aren't very good, and well...the instructions themselves suck. Take a close look. Steps 2 and 3 show the arms being attached twice. The assembly that the Alien stands on never gets broken down, but there's an entire step dedicated to putting the big gun into his hands. Trying to follow along and build this was actually a bit of a headache for me. Aren't you glad you don't have to?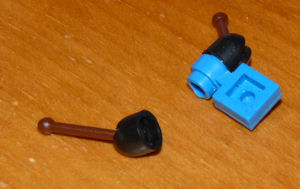 For the first time on the Friday Fail I also ran into an assembly that just didn't work. These parts would NOT click together. The problem seemed to be a poorly cast black base part. The other problem is that these are just CRAP.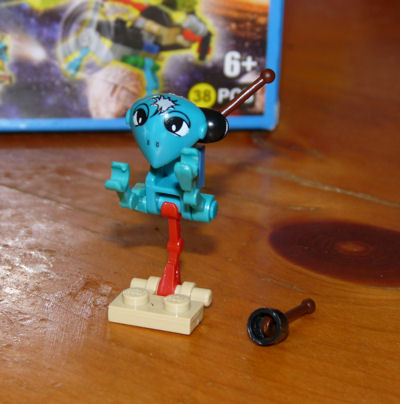 Speaking of CRAP, here's the bootlegger's idea of an alien. The tan brick is just used as a stand...otherwise this figure just sort of lies there.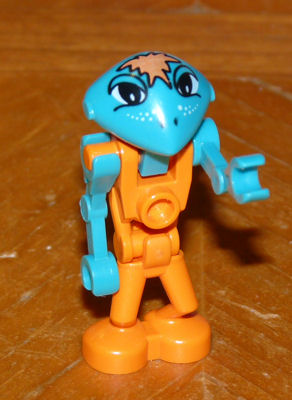 For comparison, here's the actual LEGO toy that is being duplicated. Note the better paint job on the face, the parts that fit together, and, oh yeah....LEGS.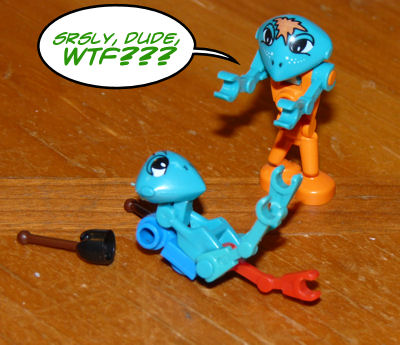 Anyways...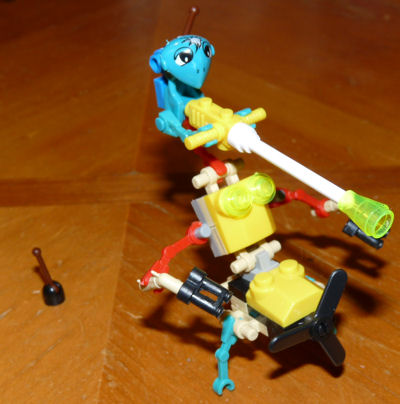 Here's the final Star Wars toy assembled. It's sort of a hybrid between the LEGO destroyer-droid from the legit Star Wars sets (the gun/binocular assembly in particular is a clue to this) and...an airplane? I dunno.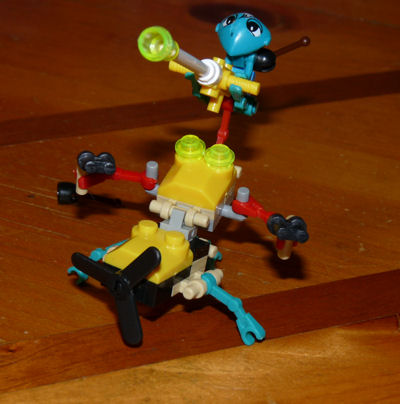 I guess BRICK gets a couple of points for creating a truly alien looking construction. Too bad it's unstable, breakable, fragile, and...a bootleg. In other words: STAR CRAP.
--

Once again, many thanks to Joe from
The Undiscovered Playthings
for sending me this set to review.