Today we announce the winners of the three "Judge's Choice" awards in the Pigs on the Wing contest. First up, though, the long-overdue reveal of the "Mystery Racer" designed by Cave Racing theme-creator Tim Gould: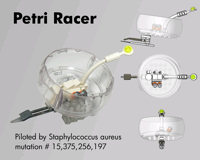 (Click the photo for a much larger view of the awesomeness.)
The idea Petri Racer came about while Tim and I were defining the scope of the contest - the exchange went something like this:
Tim: So what about brick-built animals?
Chris: Should be okay, but I can see someone getting silly and doing a 1x1 round as a "Slime Mold".
Tim: If no one enters that, I'm going to build it myself.
And so he did. And now someone has won it.
And someone won Brickforge's Pick.
And someone won the Reasonably Clever Monkey Award.
Who were they?
Click and see!
But who won the coveted Class One prize? You'll have to check back tomorrow and see!