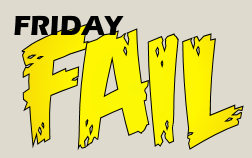 Every Friday at noon I showcase a real
failure
of a toy. And by "Failure" I mean "a cheap, crappy knockoff toy that should be destroyed before it infects humanity with some sort of degenerative disease".
But first: A reminder of some basic info. These posts are meant to showcase
FAILURE
, not to act as a catalog. I'm
not
selling these bootlegs, nor should you go out and look for them on your own. These are posts about what to
AVOID
buying. Go spend your money on real LEGO parts. You'll be glad you did.
--
Oh, this one is going to hurt.
LEGO has an established policy not to produce miltary-themed models. Sure, they come close with themes like "Dino Attack" and even "Agents", but so far they've avoided portraying actual military equipment.
Bootleggers aren't held to that standard of course. They can use their knock-off parts to build whatever they choose. Of course, being bootlegs, they're still going to fail. Case in point:
Ack-Ack.

Yes. "Just imagine." Or read on, if you dare.


Ack-ack is part of the same bootleg company as Warrior -

Xin Qi Le.

Apparently a different assortment, though. Warrior has a "stock number" of 7138 - The Ack-Ack is a lowly 106.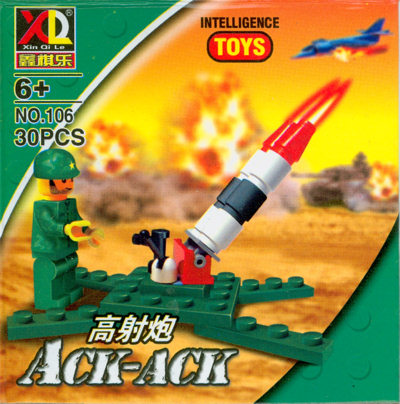 While the box claims this can be counted among the "Intelligence Toys"- I somehow doubt it. No, this is thirty pieces of military-inspired FAIL - I mean, really - who's going to mount the firing switch for a rocket
two inches
from the rocket's exhaust? That's a good way to burn off your hands and arms. Hardly "intelligence" at work.
Still - the box art looks good, doesn't it? All those amry-green bricks, a solider mini-figure - even some badly blurred fighter-jet imagery in the background. Sure, the art suggests that the missles may actually be some sort of ground-to-air cannon - I can't come up with any other reason rocket exhaust would be coming from the top of the cones. But I won't hold that against them much.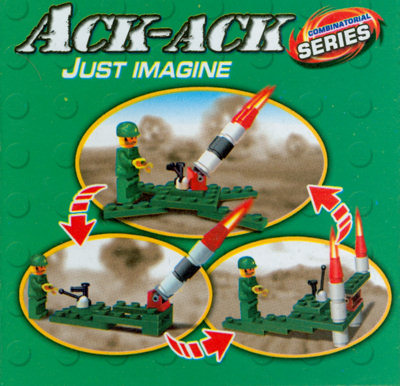 In addition to being "Intelligence Toys", the Ack-Ack is ALSO part of the "Combinatorial Series"! (Not to be confused with the Zephyr Knights "Series Transformation" line - even if the art is nearly identical.)



On the package backing (above), you can see three different takes on the Ack-Ack. I know it's supposed to be a gun, but wow, does it look like some mis-managed rocketry to me. Particularly that last "drive the platform into the ground" nightmare on the lower right...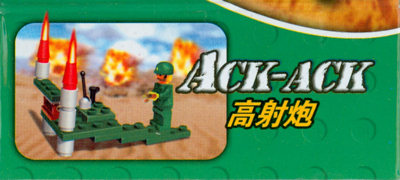 They sure do like that alternate model, though. Here it is on the side of the package. Note the background art of things blowing up. Nifty!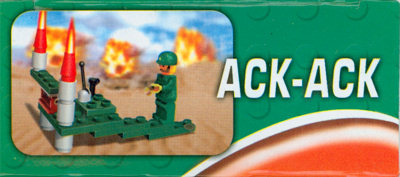 You know, the more I type "Ack-Ack" the more I hear the martian voices from the "Mars Attacks!" movie....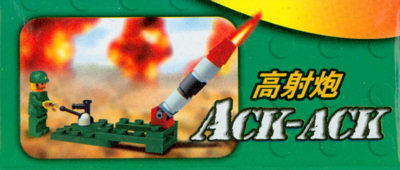 More explosions and another alternate model shot on this side. I love how the mini-figure isn't actually
touching
the controls - just sort of raching for them.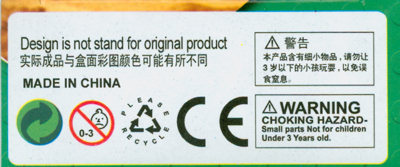 Here's somethig new. "
Design is not stand for orignal product.
" Your guess as to the meaning is as good as mine.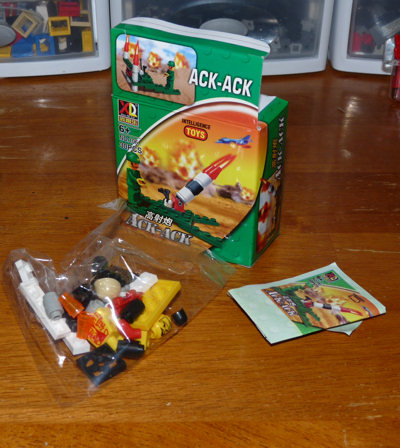 Inside the box is the standard mix - a poly bag of parts and a crumpled instruction sheet.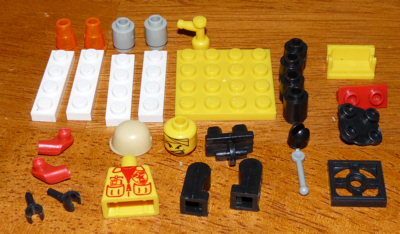 Yes, they found thirty pieces to use. They just had to fully dismember the mini-figure and break apart the rotaing plate. But, hey, they did find 30 parts. Too bad they couldn't find any
GREEN
ones.... Sort of takes away from the military theme a bit, doesn't it?
The bricks all have the YIHE stamp on them.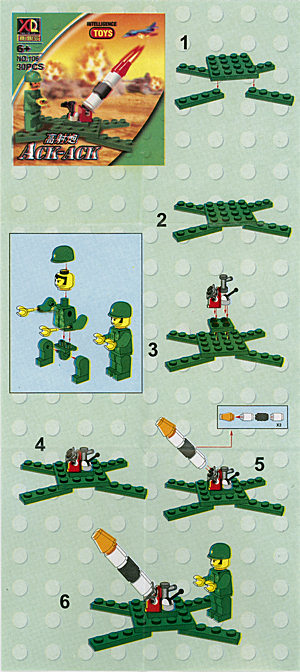 The instructions, for once, make use of linear time. Amazing.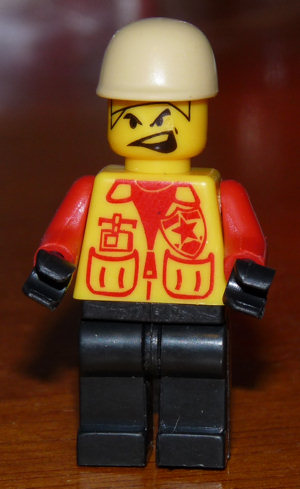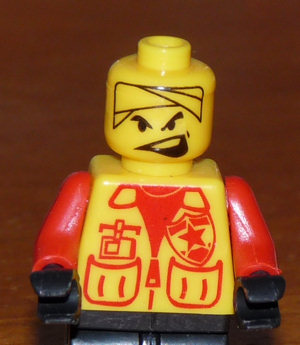 Here's a couple of shots of the included "Soldier". The head and torso have designs lifted directly from LEGO, as seen in the following images lifted from
Bricklink.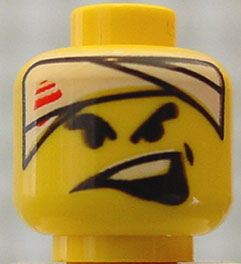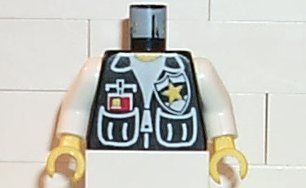 Be sure to notice how the quality drops when you go from LEGO to bootleg - a single color spray-op doesn't match the glory of the original product, does it?
And speaking of a lack of glory...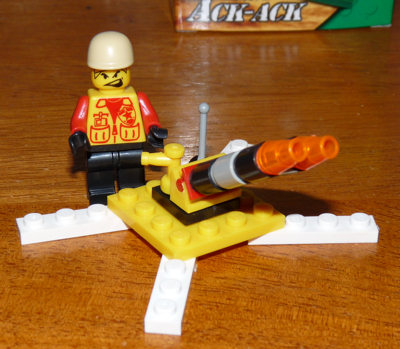 ...here's the completed toy. Oh, but how it sucks.
Yes, remember kids,
nothing
says military might like a banana yellow cannon.
Go ask your Dad. He'll back me up on this.