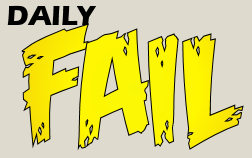 --
The second of the newest
BRICK
bootlegs. The last one,
Speed Racing
, featured Spider-Man. Today we have.....
TERMINATOR.




Terminator

also

features Spider-Man.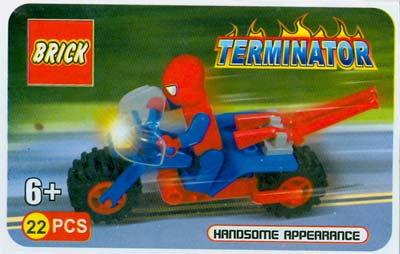 In fact, most of this bootleg is identical to
Speed Racing.
The box is roughly the size of a pack of playing cards. The front and back are almost identical except for a bit of badly translated text. That badly translated text is the same as on Speed Racing.
The Spider-Man figure shown is identical to the one on Speed Racing.
The toy is a repeat of another BRICK set -
CHALLENGER
- the only change is the color scheme and the lack of a helmet and pistol for the mini-figure.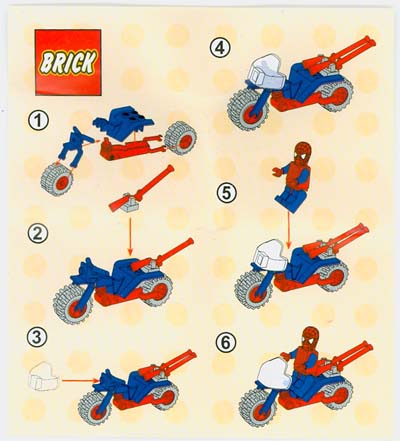 The instructions come on the same 4" square scrap of paper that we saw in Speed Racing. The scale on the Spider-Man in step five is better this time, though.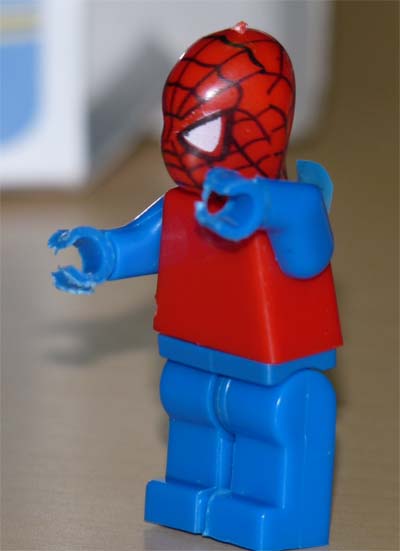 The figure itself, though...well.... he'd be better if BRICK hadn't given him
two right arms.
And look at all that untrimmed plastic. This is truly a Spider-FAIL.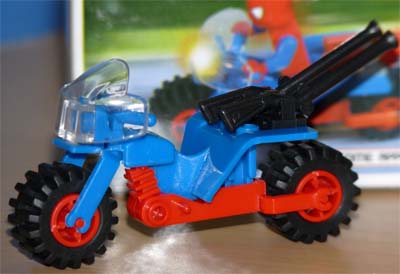 The cycle looks okay, at least. The colors come across as strangely USA Patriotic. The guns are cast in black plastic, an improvement over CHALLENGER's red versions.

I should mention, though, that the plastic on this set smells really funky. I don't know what sort of chemicals they mixed into the brew, but I'm sure they've taken years off my life.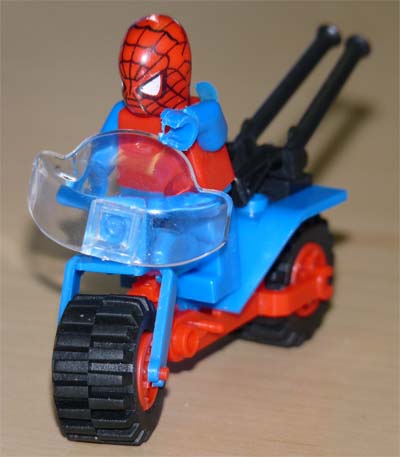 Here's Spider-Fail trying to drive his bike one-handed.

Maybe he's on the way to the hospital to get that arm looked at.