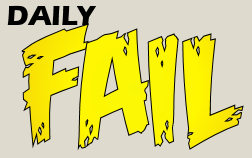 --
Suddenly, a
Challenger
appears.

Today we return to the Bootleg Brand that sparked the Daily Fail:
BRICK
. Part of the "Super Bricks Series",
Challenger
confronts you with all the rage and hate that a bootleg can muster! Don't be too scared, though - it's just a hunk of crappy plastic.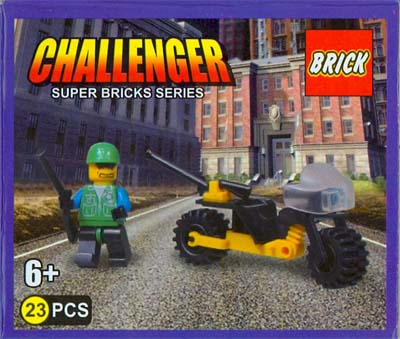 The package front is a nice mix of product imagery and stock photography - the atmosphere of a ruined inner-city wasteland fill the air - much like it does here in Detroit.

Note, as usual, the BRICK logo's use of LEGO's trademakred colors and fonts. No attempt to confuse the customer there!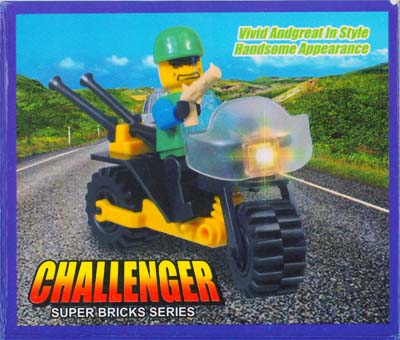 The back of the box has more "Challenging" images for us to enjoy. This set isn't a direct copy of any single LEGO product - in fact, there are some parts included that aren't even clones of LEGO bricks. We'll look at those deviations in a little bit. For now, just enjoy the lack of proof reading in the classic BRICK copypasta:
Vivid Andgreat In Style
Handsome Appearance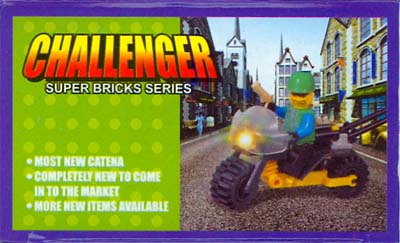 I included this side panel just for the strange background photo. It looks as if the
Challenger
has stopped at
Mackinac Island for some fudge.
(Yes, another regional Michigan reference. Sorry.)
Since it's been a while since we've looked at a BRICK bootleg, here's the text from the side panel again:
Most New Catena
Completely New To Come In To The Market
More New Items Available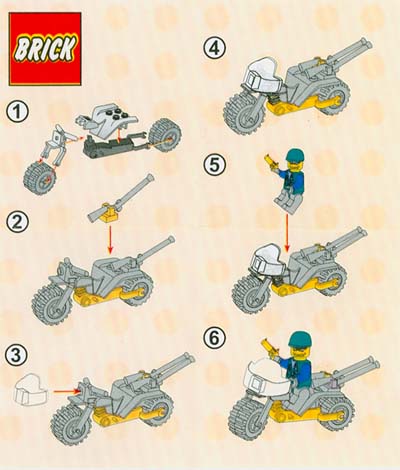 The instructions are pretty easy to follow. Most of the 23 parts (as listed on the box) come from having to assemble the mini-figure from scratch - truly "some assembly required." The instructions fail to show how to put the figure together - an assembly step that is often left out by the Bootlegers.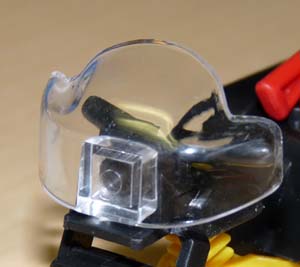 I don't know if the windshield is lifted from another clone brand or not, but it's certainly not a part manufactured by the LEGO corporation. A shame, really, as it could be a fairly useful part in the real world.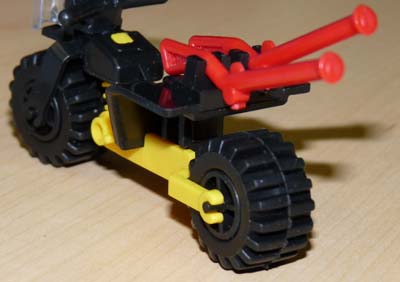 The cycle itself is a heavily modified 2-wheel version of the LEGO 3-wheel bike. We've seen this retooling before in a bootleg released under the
Xin Qi Le
brand:
1 Police Patrol
.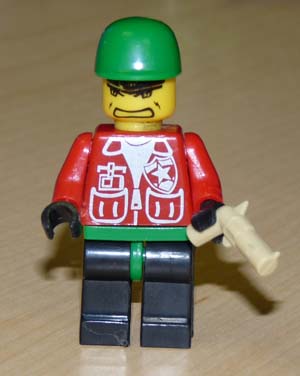 The mini-figure is mostly LEGO duplicates - the face is a single-color reprint of an Exo-Force face, the torso a reprint of a classic CITY Police design. The helmet is Non-LEGO. (We've seen the hemlet before in the
Ack Ack
bootleg, another
Xin Qi Le
offense. Maybe
BRICK
works out of the same factory.)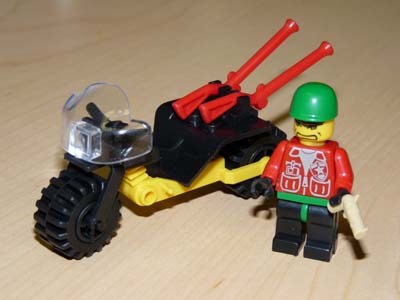 It it weren't for the odd colors (red and tan guns?) and sad looking Mini-figure this would almost be a nice set. Provided you didn't, you know, want to play with it or anything. Because this plastic is brittle and pointy. And probably filled with lead.
Just saying.