This just in! For those of you who were concerned about my possibly grabbing random strangers off the street to rate your Steampunk creations,
worry no longer.
Jake von Slatt of
The Steampunk Workshop
has agreed to serve as judge for our
LEGO Steampunk Challenge
.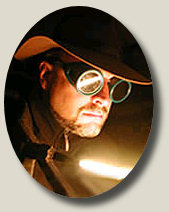 If you're not familiar with his work, I suggest you start out with his amazing
Steampunk Keyboard Mod
and continue reading with his
interview with Wired magazine
. You'll soon understand why we're so thrilled Jake was willing to get involved!