Geoffrey H.
isn't entering the contest, but that didn't stop him from putting together a great mini-model. I'm going to use it as an example, and to answer some questions people have had about the contest.
The first thing you'll want to share is a photo of your creation: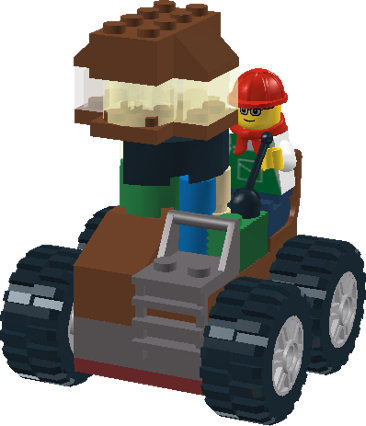 This photo can be up to 640x480 in size. (The shot above is 366x462)
Yes, this is from LEGO's digital designer. Virtual models are allowed provided you use only parts issued by LEGO. (And in color that have actually been produced!)
Next, you'll want to include a link to any additional photos you have of your model. These can be any size, and as many as you like. If you don't have anywhere to host them, I'd suggest signing up for a free account at
Brickshelf
or
Flikr
.
You'll want to use the additional photos to show off your creation. Here's two more that Geoffrey submitted: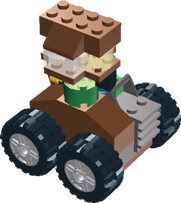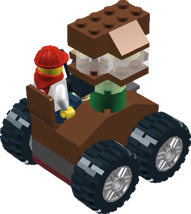 One of your shots should be of the parts displayed so we can see all of them. Alternatively, a text listing of the parts you used is welcome. Whichever is easier for you. Basically, we want to see what goes into your model - and keep an eye on that 50 part limit...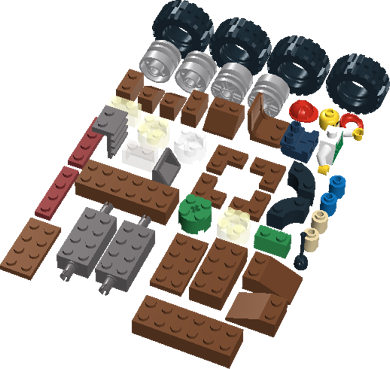 Finally, you'll probably want to include a bit of text talking about your model. Here's what Geoffery wrote...
I'm not entering the contest so I figured I'd see what I could throw together in 50 pieces using LDD for the SteamPunk contest.

It's a little blocky, and lacks some decent detailing, but it's an example of what one can throw together using the 50 piece limit.

The boiler assembly was tricky to get as there wasn't really that many elements larger than a 2x2 round brick in the entire LEGO palette. So I opted for a multi-stage boiler with the blue 1x1 rounds representing an input from the reservoir hidden in the base of the vehicle and the output
driver pipe is from the tan 1x1 rounds leading out the other side of the boiler.

Straightforward studs-up construction has been used, no hidden tricks.

I couldn't provide some lunch for the driver, perhaps I could rework it but this is what I came up within a half an hour time limit I set myself - hey building the contest entries shouldn't take much free time out of your day.

I also don't have a name for it. Suggestions welcome.

Cheers ...

Geoffrey H
And there you have it. A nifty non-entry to get your own creative ideas flowing. If you have any more questions about the contest, please post 'em here.